Shop New Tires for Cars Trucks & SUVS in Harrisonburg VA


Are the tires on your Kia Sorento or Forte almost out of tread? Do you need a new set of all-season tires for your Kia Soul or Optima? If the answer is yes, then why don't you turn to a Kia authorized service and parts center to get the job done? If you live in the Harrisonburg, VA, Staunton, VA, Waynesboro, VA, and Charlottesville, VA area and are in need of tire services, you can count on the tire experts at Steven Kia Service Center. Whether your Kia vehicle needs balancing, a tire rotation, a new set of summer, performance, off-road, or all-season tires, the service and parts team at Steven Kia has exactly what you need for your vehicle. You can reach our specialists by phone, in-person at our service department, or you can even schedule a service appointment for your Kia vehicle right here through our website.
The safety level and performance of your vehicle are extremely dependent upon the condition of your tires. Tires, after all, are the one component of every car that comes in direct contact with the road. If your set of tires are unevenly worn, have a leak, are under-inflated, etc. your Kia or other vehicle won't be able to ride and handle at its optimal level. If you live near Harrisonburg, VA you can easily remedy any issues you have with your tires fast by getting your vehicle down to the tire experts at Steven Kia. If you need your tires replaced, we offer a variety of options depending on vehicle model – which our service advisers can talk you through either on the phone or when you visit our service center. Maybe your car's tires are just wearing unevenly? We can rotate and balance them for you so everything can go back to smooth riding in no time. From BFGoodrich, Bridgestone, and Michelin to Continental, Yokohama, and Dunlop, we have admittance to a sizable portion of the top tire brands here at Steven Kia.
At Steven Kia, never worry about the expense of a brand new set of tires. We will do our best to provide a wide range of tire choices for you, the customer, at affordable prices. Tire balancing and mounting can be done on-site, and we even offer coupons and discounts for new tires or tire services on a regular basis. Don't forget to check out our current service specials and parts specials right here on our website. There is a high probability that we have special pricing on tire services when you buy a set of four new tires from us.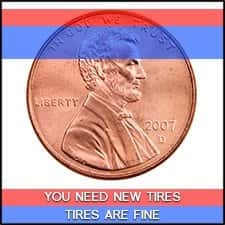 Do I Need New Tires?
Do you have a penny? If so, you can do this extremely easy test to figure out if your tires are safe.
All you have to do is place a penny head first into a few of the grooves across the tire. If the top of Abraham Lincoln's head is visible, then your treads are shallow, worn, and need to be replaced. If Honest Abe's head is covered by the tread, then it means you probably don't need new tires after all!
Harrisonburg, VA New Tire Service Center
The Steven Kia Service Center is located at 3340 S Main St, in Harrisonburg, VA. You can also plan a service arrangement for your Kia vehicle through our online service scheduling form. At Steven Kia, we're pleased to serve families and drivers around Harrisonburg, VA, Staunton, VA, Waynesboro, VA, and Charlottesville, VA with the top-quality, Kia-certified auto service. Stop by today, or call our servicing advisers for more information regarding our high quality tire services.