KIA Hits New Milestone with 10 Million Cars Sold
KIA Hits New Milestone with 10 Million Cars Sold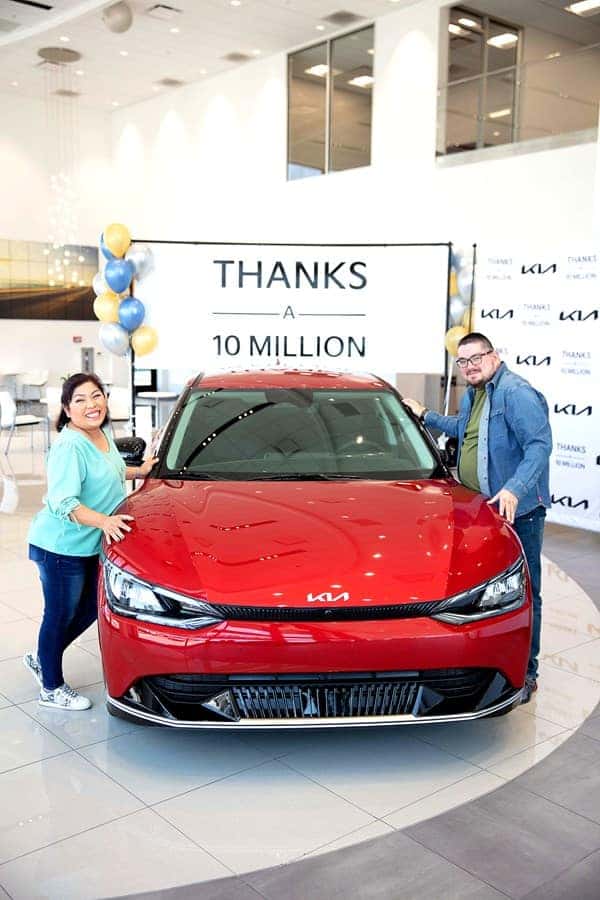 As its popularity continues to grow, KIA is celebrating the sale of its 10 millionth vehicle in America since opening shop in 1993. Despite being one of the youngest companies in the auto industry, KIA has swiftly risen to the top of consumer lists thanks to its incredible quality, design and technology. With so many great qualities, it is no surprise that KIA has become the fastest auto manufacturer to reach the 10 million cars sold milestone.
A Runway Red EV6 was lucky number 10 million, sold to a wonderful woman named Moti Charoenphong at Car Pros KIA Moreno Valley. In celebration of this milestone, KIA and Ms. Charoenphong teamed up to make multiple $10,000 donations to a number of non-profit organizations including St. Jude Children's Research Hospital®, Alzheimer's Association and Freedom Service Dogs of America.
This was not only a celebration of 10 million KIAs sold, but it was also a part of KIA's "Accelerate The Good" initiative which seeks to help people in need all throughout the United States. In addition to its monetary donations, KIA has also promised access to a future event NBA and KIA Forum event for Ms. Charoenphong and her family.
"Selling 10 million vehicles is a significant achievement and we at Kia are proud not only how far we've come, but also what the future has in store as we continue our push for sustainable mobility leadership," said Sean Yoon, president & CEO, Kia North America and Kia America. "To thank our customers for their support, Kia wants to give back in meaningful ways by helping those in need. We hope the positive impact of these donations will resonate for years to come."
"We have been a 'Kia Family' for many years, but once we saw the EV6, there was no question this would be our next car," said new owner Monti Charoenphong. "The day we took delivery was already very exciting, but to learn that we were also Kia's 10 millionth customer in the U.S. was unbelievable and confirmed our love of this company and to electrified driving."
With such a prestigious milestone hit, it seems as if KIA has nothing but great things on the horizon as it gears up to dominate the budding EV market. Growing from a small company offering just two models in 1993, KIA now sits atop the list of the top automakers throughout the world — a far departure from where the company began.
As KIA continues to dig into the electric vehicle market as part of its Plan S strategy, more EVs are planned in the coming years following the EV6 release. The Plan S strategy is focused on getting KIA to the top of the EV market, with plans of a fully-electric KIA lineup by the year 2040.
Ready to get your hands on the new KIA EV6? Then you need to stop by (Insert Dealer) located in (Location) for a test drive today. Don't let your life continue to be dominated by the gas pump, get behind the wheel of the all-electric KIA EV6 today!