Built to Go the Distance; the New KIA EV6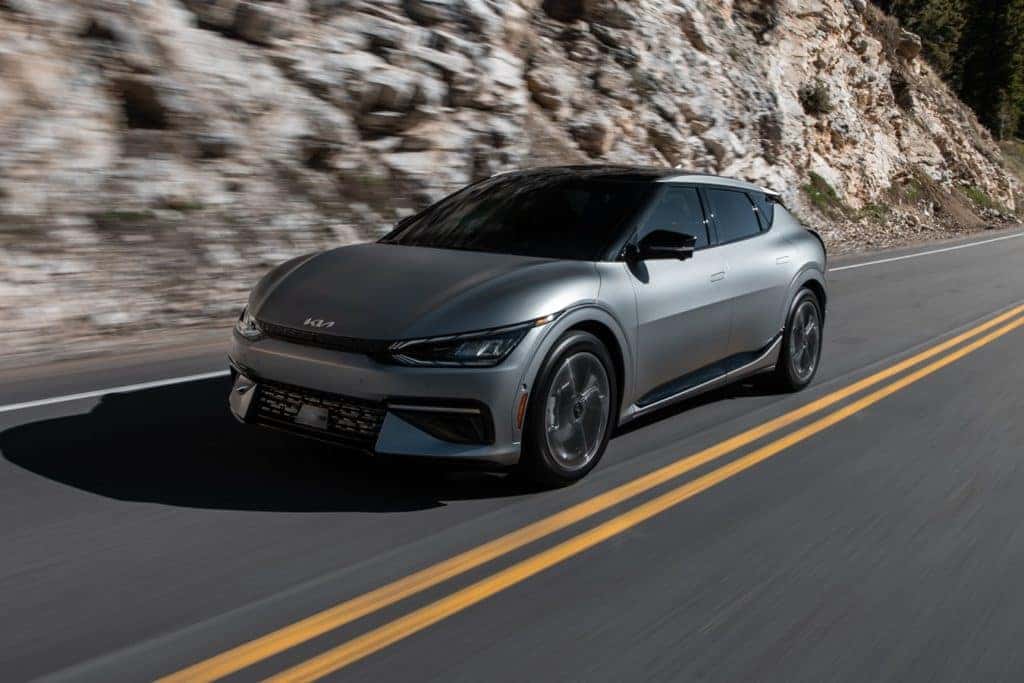 Built to Go the Distance; the New KIA EV6.
Recently announced as KIA's first full-electric vehicle, the EV6 is a small crossover SUV designed to usher in KIA's new era of electric vehicles. Quick to production, KIA only just announced the EV6 in 2021 and already has plans on selling them to the public in quarter one of 2022. An exciting piece of news on its own, the first fully-electric KIA just got much more exciting with the announcement of its EPA-certified all-electric range (AER) of up to 310-miles.
Whether you're located in Harrisonburg or Charlottesville, Steven KIA is the KIA for you! Here at Steven KIA, we not only stock the largest selection of new and pre-owned KIA cars, trucks and SUVs in the Harrisonburg area — we offer the best deals too! Stop by Steven KIA and get your hands on the fully-electric KIA EV6 today!
EPA-Certified
As a part of the development of the EV6, KIA has subjected its fully-electric SUV to all sorts of vigorous testing, including tests from the U.S. Environmental Protection Agency (EPA). In its extensive testing of the KIA EV6, the U.S. EPA found that KIA's first full-electric vehicle gets an outstanding all-electric range of up to 310-miles on a single charge. Based on the rear-wheel-drive equipped EV6 models with a 77.4 kWh battery — like the EV6 GT-Line and EX+ — the EPA-certified range varies depending on how the EV6 is equipped.
Customers that opt for all-wheel-drive on their EV6 will see a decrease in their AER, only being able to travel up to 274-miles on a single charge. While this may be seen as quite a significant loss of range, the addition of all-wheel-drive more than surely makes up for the shortened range. A budget-friendly model of the EV6 — the EV6 EX — will come equipped with a 58 kWh battery, capable of a 232-mile AER.
"Offering EV6 customers over 300 miles of all-electric range per charge, combined with the ability to recharge quickly and efficiently, is foundational to the rollout of our Plan S Strategy that positions Kia as an EV leader," said Sean Yoon, president & CEO, Kia North America, Kia America.
The outstanding EPA-certified range of the EV6 is all due to KIA's ingenious aerodynamic design and motor performance. Carefully crafted by the engineers and designers at KIA headquarters, the EV6 is a groundbreaking vehicle and is the signal of a changing of times. KIA has recently shifted its focus from traditional, internal combustion engines, and focused on electric vehicles for a more sustainable market. This move is proving to be quite the success, as preorders for the EV6 are piling up.
Electrified Performance and Features
Available in both rear-wheel and all-wheel drive, the all-new EV6 will deliver a jaw-dropping performance each time you get behind the wheel. Other incredible features include DC fast charging, vehicle-to-load (V2L) functionality and a flat-floor interior. On top of these great features, the KIA EV6 interior utilizes a variety of sustainable materials for a reduced environmental impact.
Environmentally-friendly materials and all-wheel drive aren't all the EV6 has to offer. Owners of the EV6 will enjoy near-instant acceleration and a 4.6-second zero-to-sixty time when properly equipped. In addition to its next-level performance, the EV6 EX+ comes standard with 23 advanced driver assistance features and 19-inch alloy wheels. Heated and ventilated front seats offer exceptional comfort in all weather conditions, while the 14-speaker Meridian premium audio system keeps you and your passengers entertained.
Well-equipped at all trim levels, the EV6 is sure to be a fan favorite as soon as it releases in the first quarter of 2022. On the GT-Line features available include a power sunroof, 20-inch wheels, vegan leather seating, blind-spot monitors, and remote park assist. Customers that choose the GT-line will also enjoy an exclusive GT-line exterior and interior trim, as well as an augmented reality head-up display.
If you're looking to get your hands on the all-new KIA EV6 and are located in Harrisonburg or the surrounding areas, Steven KIA is the dealer for you. Stop by Steven KIA located in Harrisonburg to place your order for the 2022 KIA EV6 today!
Order Your EV6 Today!
While the EV6 has yet to drop for the 2022 year, preorders are currently being accepted at KIA dealers throughout the United States. If you would like to get your hands on KIA's first fully-electric vehicle, then you'll want to stop by Steven KIA to place your order today! Here at Steven KIA, we stock the Harrisonburg area's widest selection of new, pre-owned and certified pre-owned KIA cars, trucks and SUVs. Stop by and place your order for the all-new 2022 KIA EV6 today, here at Steven KIA located in Harrisonburg, VA.
Source Article: KIA Newsroom