A Sneak Peek of the All-New 2023 KIA Sportage Hybrid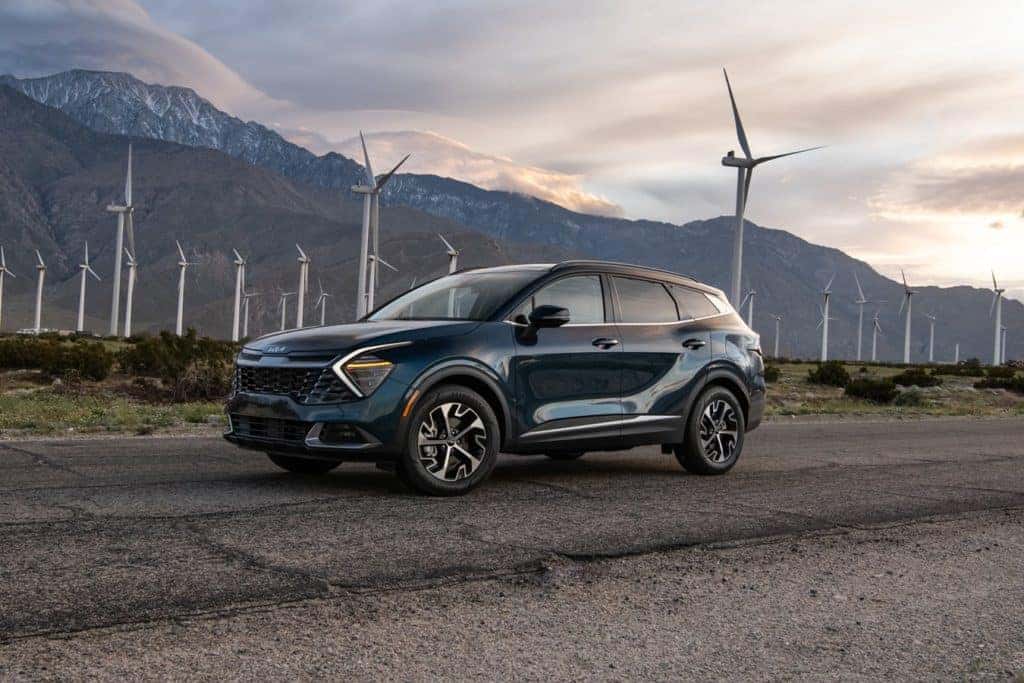 Coming in Spring of 2022, the All-New KIA Sportage Hybrid is a family and climate-friendly SUV with more than 500-miles of driving range. It will sport a 227-horsepower turbo hybrid powertrain that is capable of up to 39 MPG and delivers unforgettable driving experiences.
While Sportage has been a KIA staple for decades, this is the first time it will be available in a hybrid configuration. The 2023 Sportage Hybrid is KIA's third model in its new "Plan S" which is the auto manufacturers' plan for global electrification. It joins the fully-electric EV6 as well as the Sorento HEV and PHEV models, furthering KIA's goal of electrifying their lineup.
If you want to get your hands on the All-New Sportage Hybrid, you'll have to wait until they hit dealership lots later this year. However, you can come on down to Steven KIA and place a preorder for your KIA Sportage Hybrid today.
Sportage Hybrid Offerings
Starting at $27,290, the Sportage HEV is incredibly affordable and a great choice for those looking to dip their toes into the electric vehicle waters. The Sportage HEV offers best-in-class rear legroom and cargo room, making it perfect for the entire family. In addition to it's roominess, the Sportage HEV will net you around 39 MPG thanks to the turbocharged hybrid engine.
The sporty turbocharged engine will be combined with a high-output lithium-ion battery and a 44kW electric motor for ultimate fuel efficiency. Along with this, the Sportage HEV will be capable of towing up to 2,000-pounds, making weekend getaways easier than ever before. Three drive modes will also be available, they are ECO, Sport and Smart — Snow is available on AWD models only.
More than a fuel-efficient and family-friendly SUV, the Sportage HEV offers exciting exterior and interior styling and unmatched capability. On the interior, you'll find an infotainment system with Apple CarPlay® and Android Auto™, new touchpad climate and audio controls, and premium seating surfaces.
A suite of advanced driver assistance technology will come standard on the Sportage HEV and offer features such as Driver Attention Warning, Lane Following Assist and Forward Collision-Avoidance. If you want even more safety, KIA offers over 10 additional advanced safety features that you can add.
KIA added a ton of extra room in the All-New Sportage, making it 7.1-inches longer than previous generations. This extra length allows for a 3.4-inch longer wheelbase which adds to the vehicles stability and smooth driving. On the inside of the Sportage HEV, your passengers will love the class-leading 41.3-inches of rear legroom. When it comes to cargo space, the Sportage HEV offers a best-in-class rear cargo capacity of 39.5 cu-ft making it perfect to haul all of your gear.
Place a Preorder Today
In love with the Sportage Hybrid already? Just wait until you get behind the wheel of one! You can preorder your 2023 KIA Sportage Hybrid here at Steven KIA located in Harrisonburg. Come on down today to have one of our sales professionals help you customize your dream Sportage Hybrid.
Whether you're after the 2023 Sportage Hybrid or one of the many great KIA models, Steven KIA is the KIA dealer for you. We carry Harrisonburg's largest selection of new, used and certified pre-owned KIA vehicles, including the electrified EV6. If you don't want to pay too much your next vehicle, there is only one place to shop — Steven KIA.